Transforming Higher Education
An International Collaborative Workshop

Sponsored by Lincoln University
and
On the Horizon

July 24-26, 1996
Lincoln University,
Christchurch, New Zealand
---

Ivey Hall Library
---
This workshop, led by Donald Norris and James Morrison, is an opportunity to apply the principles described in Transforming Higher Education: A Vision for Learning in the 21st Century (Dolence and Norris, 1995) to your learning enterprise. This is a hands-on workshop using practical examples and cases studies of transformation in academic programs, facilities, and the academic culture. Workshop format includes a combination of collaboration, workshop activity, and consultation.

---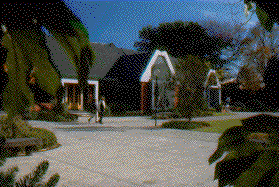 Stewart Lecture Complex
---

Collaboration

Collaboration begins immediately upon receipt of your registration fee, at which time we will mail you instructions on how to subscribe to Transformation List, a listserv established for this workshop. In addition, we will insert (or link to) your biographical sketch and photograph in the page describing this workshop, so that when we meet in Christchurch, we will already know the background and interest of the participants, a process that will be facilitated by our listserv discussions. See who has already registered for the workshop.
We will use the listserv discussion to tailor the content of the program to participants' needs. Below are suggested workshop topics.
Workshop Activity

The preliminary agenda, which focuses on frameworks for introducing transformation to your campus, includes the following topics: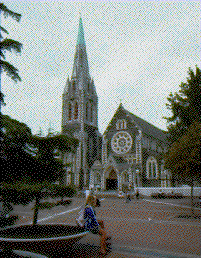 Winning leadership support for transformation
Creating new academic cultures on campus

Motivating/empowering faculty to be agents of transformation

Developing a shared learning vision for the Information Age

Redirecting existing process to achieve transformation--strategic planning, facilities planning and management, program review, assessment and accreditation, development and fund raising

Redirecting Continuous Quality Improvement (CQI), Total Quality Management (TQM), and reengineering programs to transformation

Establishing new paradigms for financing Information Age infrastructure
Creating new "units" of learning

Training faculty on the tools of Information Age learning and getting them to use them

Changing the production function of learning

Creating investment pools in the face of resource shortages

Building the Information Technology (IT) transformation infrastructure.
Successful transformation initiatives and instructive failures
Participants may nominate issues facing colleges and universities as they seek to meet the challenges of the Information Age. If you nominate an issue, please consider submitting an issue brief that addresses the following questions.
What is the issue focus?
What is the background of the issue?
What are the forces driving the issue?
Where is the issue going? What are its prospects?
What are the implications of the issue for colleges and universities?
What should educational leaders do?
To submit a briefing paper, send (e-mail or U.S. mail) it no later than July 17, 1996 to James L. Morrison, workshop co-leader. Each briefing paper should be 2-7 pages, single-spaced. All briefing papers will be posted in the agenda of this workship on Horizon Home Page for review prior to the workshop.
Specific topics will be determined by participants in our discussion on Transformation List prior to the workshop. The final agenda will be posted to the list a week before the workshop and distributed at workshop registration in Christchurch. This agenda will be implemented in the following timeframe:

Wednesday, 24 July 1996
Morning


Registration from 8.00am
Workshop opens 9.30am
Breakfast

Orientation (introductions, review of objectives/schedule, logistics, etc.)

The Challenges of the 21st Century

Coffee

The Conceptual Framework of Transformation in the Information Age

Case Studies of Transformation



Afternoon


Lunch

Tea

Accomplishing Transformation - case studies and consultation



Evening


Reception and buffet meal 6.30pm-7.15pm
Thursday, 25 July 1996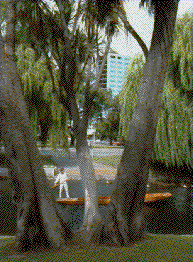 Morning


Breakfast

Accomplishing Transformation (Program focus and specific topics will be drawn from workshop activities cited above and from participant contributions as determined by workshop faculty and participants on Transformation List)

Coffee


Afternoon


Lunch

Accomplishing Transformation (as determined collaboratively by faculty and participants on Transformation List)

Tea

Accomplishing Transformation (as determined collaboratively by faculty and participants on Transformation List)
Friday, 26 July 1996
Morning


Breakfast

Accomplishing transformation (as determined collaboratively by faculty and participants on Transformation List)

Coffee

Discussion of workshop results: "What I plan to implement/change on my return"



Afternoon


Lunch

Discussion: Exploration of on-going collaboration

3:00 Adjournment




---

Ivey Hall Library
---
Consultation

Workshop faculty will initially lay out the conceptual framework for realignment and will lead a discussion of published case studies and participants' experiences in transformation activities. During the workshop they will play the role of consultants responding to particular problems/needs expressed by participants. Discussion and consultation will be conducted in groups so participants can benefit from the experience of others. In addition, time will be allocated for consultation between the faculty and individual participants to discuss issues on particular campuses.
Workshop Materials

Please review the following materials:

You will be mailed a copy of Transforming Higher Education: A Vision for Learning in the 21st Century, upon receipt of your registration form and deposit. At registration in Christchurch, you will receive a notebook of relevant readings.
The Cost

The registration fee includes all workshop materials described above, conference refreshments, a workshop reception and lunches during the workshop. Accommodation is additional cost.
Registration Fee & Accommodation:
Early registration is NZD1120 when paid by 1 July 1996; thereafter NZD1200. If two or more participants from the same institution register, fees are NZD1000 each when paid by 1 July 1996; NZD1080 thereafter.
The Millenium Hotel, right in the heart of Christchurch - in Cathedral Square - is both the venue for the workshop and the recommended hotel for accommodation. Christchurch's newest hotel has a special room rate very favourably positioned for workshop participants and, as a result, we are able to quote you a bed and breakfast price for the workshop nights, of NZD135 per person per night double or twin, or NZD225 single. These prices include NZ Government Goods & Services Tax. Additional nights of accommodation can also be booked at these prices.
The workshop venue is Conference Room 2 on Level 2.
Workshop opens at 9.30am, Wednesday 24 July.
Workshop closes at 3.00pm, Friday 26 July.
Workshop reception and buffet meal (non-delegate, per person) NZD35
Luncheons (non-delegates) per lunch NZD22
Refunds and Cancellations:
Fees less NZD100 may be refunded on written application received prior to 1 July 1996. Refunds are not normally possible thereafter. Substitution is perfectly acceptable at any time.
Skiing Weekend
A very favourable rate has been negotiated for a fully inclusive day skiing either Saturday and/or Sunday 20-21 July. This includes skis, boots and outer clothing (latter if required), transport and entry fees to Mt Hutt. Details on request.
For registration details, contact Don Crabb, Director, Centre for Continuing Education, Lincoln University.
Email: crabbd@lincoln.ac.nz
Telephone: 0064 3325 3819 (office)
Fax: 0064 3325 3840
From US: 001 643 325 3819 Fax: 001 643 325 3840
---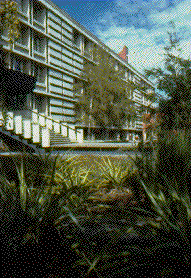 Hilgendorf Wing and Economics Building