The University of St. Andrews: History, Culture, Future Challenges
By James L. Morrison and Ian Wilson

Seminar Proceedings
St. Andrews University, Scotland

Vice-Principal James MacCallum described the history, culture, and future strategic challenges to the university. A selected set of his charts was given to all participants. The major points for use in the scenario and vision exercises were as follows:
In the late 80s and early 90s the British government decided to widen opportunity for university education. The fundamental question at that time for St. Andrews was, "How can expansion be funded?" A related question was, "Who should pay for secondary and tertiary capital and recurrent costs?" These questions were in the context of a tax-reducing government whose policy emphasized efficiency gains and "value for money."

Funding for St. Andrews is related to student numbers and student type (undergraduate and postgraduate) and to research reputation.

The management approach since the arrival of a new principal in 1986 has emphasized the following:

increase in student recruitment
aggregating small departments into schools, which became budget centers with full responsibility and accountabil ity
research allocation related to earnings
control of central expenditure
increase in earnings through increasing the number of contract and overhead on contracts

Key points in the current strategy are:

recruitment of research-active staff
switch from undergraduate to postgraduate students
increase in recruitment of overseas students
investment in new science research initiatives

The University of St. Andrews has grown from 3,800 students in 1985-86 to a current total of 5,200, with 1,200 staff of whom 340 are academic.

The current issues facing St. Andrews are:

deliver value for money
cut costs, increase income
improve quality of teaching and research
develop a second campus
Application of the Corporate Strategic Management Model to Education
In higher education, administrators do not have the line authority that their counterparts in corporations have. Colleges and universities have a good deal of autonomy, where emphasis is placed on communication and collegial actions. Decisions are expected to come through participation of a number of people in the institution. Industry is more results-oriented. Accountability is clear. The emphasis is on performing against the plan. Organizational units are rewarded to the extent that they meet strategic intent. Accountability is not as clear cut in education as in the corporat e world.
Independent schools are more like the corporate model. If they do not satisfy their customers, they are out of business. Given that there are normative differences between the corporate world and academe, there was general agreement that the basic strategic management model can be adapted to the needs of higher education.
Uncertainties in Education's Future
Following the presentation of Global Futurescan 2000, the Nominal Group Process was employed to obtain participants' views of the critical uncertainties confronting education. This list was then organized by topic as follows:
Competition/New Forms of Education
Emergence of new world class universities
The universal virtual university eliminating the need for site-based instruction
Given the growth of the knowledge industry, will universities be central or marginal?
What will be the impact of a new college on St. Andrews' faculty, student body, curriculum?
Impact of competitors who can deliver higher education at lower cost
Future of place-bound learning
How will Dundee and other providers/competitors affect St. Andrews development strategy?
Technology
What is the role of lectures given the developments in technology?
Expensive cost of technology
Future of place-bound learning
The universal virtual university eliminating the need for site based instruction
What is the role of academic staff given the developments in technology?
Technologies' impact on internal culture for dealing with "old" faculty, facilities, and curriculums
Government Policy/Funding
Government revoking job security for tenured professors.
Federal support for financial aid cut.
Government research funds given to the private sector rather than to universities
Funding models based on output rather than input measurements.
Instability in government.
Government-funded tuition
Societal Values/Expectations
How does the university retain its role as a social critic in the context of government funding?
Changing perceptions of the value of higher education
Academic freedom
Growing need for accountability
Is the university a republic or a corporation?
Should emphasis be on quality teaching or on research
A move away from specialist disciplines to more cross-disciplinary, holistic approaches
The impact of a more culturally diverse student body caused by global students
The impact of constituency-based education? (Developing education that meets the needs of a particular community/constituency?)
Civil wars for independence
Market Needs/Skill Requirements/Career Opportunities
Changing balance between traditional full-time education and continuing education.
Graduate employment
The currency of a college degree in a skills-based economy
Lack of job after university graduation.
Universities dropping continuing education
Attractiveness of the teaching profession/salaries to young people
Financial Factors
Cost of education
Enrollment management and revenue/expense/deferred maintenance
Is the need to do more with less a permanent situation?
Global economy
Affluence of population
The product of this exercise was used in the scenario exercise to identify both the key decision factors and the critical uncertainties which were to form the scenario logics.
Building the Scenarios' Structure
The decision focus
The facilitators nominated two potential topics as a decision focus for the scenario exercise:
To what extent, and how, should St. Andrews' current strategy be transformed to deal with uncertainties in its future environment?

Should the University of St. Andrews be privatized?
After some discussion participants decided to focus on the narrower, more specific issue of privatization.
Scenario logics
Due to lack of time, the full six-step process was short-circuited at this point by eliminating the second (key decision factors) and third (environmental forces) steps. In their place, we used the list obtained in the nominal group process to identify th e critical uncertainties that might form the logical structure for the scenarios. After some discussion, the participants agreed to focus the logical structure of the scenarios on three critical axes of uncertainty confronting higher education: global, political, economic environment; public-private sector "balance"; information/commun ications technology (See Figure 1).
Focus on selected scenarios
Out of eight possible scenarios arising from the logical structure described above, four were selected for special attention, to cover as wide a range of different futures as possible. (See figure 2)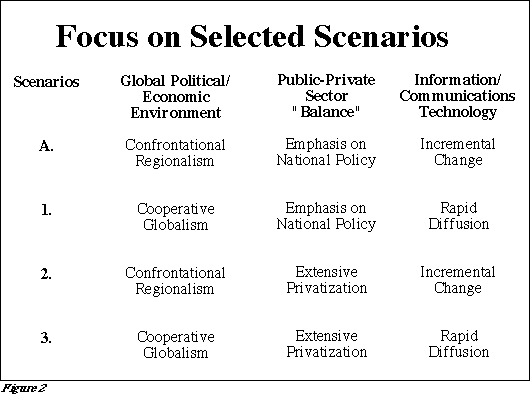 Scenario A was set aside as being too close to a continuation of the current situation to be a good example of a future of discontinuous change. The remaining three were assigned to small working groups for further elaboration.
Scenario Descriptions, Implications, and Vision
Each group was given the following tasks:
Giving their scenario a compelling and descriptive title
Elaborating the scenarios to highlight the development of the following forces:

Competition/New Forms of Education
Technology
Government Policy/Funding
Societal Values/Expectations
Market Needs/Skill Requirements/Career Opportunities
Financial Factors
Competition/New Forms of Education
Technology
Government Policy/Funding
Societal Values/Expectations
Market Needs/Skill Requirements/Career Opportunities
Financial Factors
Considering the implications of the scenario for the selected decision focus: Should St. Andrews be privatized?
Developing a strategic vision for the University of St. Andrews appropriate for the conditions of their scenario.

The reports of the three working groups follow below:
Scenario 1: The Voucher Network
Scenario logics:
Cooperative globalism
Emphasis on national policy
Rapid diffusion of technology
Scenario description in terms of the impact of driving forces/logics on the key decision factors:
Competition/New Forms of Education
Handful of rival international networks of world class universities
Reciprocal vouchers among participating governments
Competition outside of the networks will be characterized as cheap, media-based alternatives
Technology
Blending of high-tech, high-touch instruction
Drastic reduction in the cost of technology
Instructional staff become navigators of learning experiences
Government Policy/Funding
Little drive to eliminate tenure, but requirements will increase to guarantee world class researchers.
Industry partnerships with universities to leverage increased government funding for research.
Emphasis on research and postgraduate study will increase competitiveness in output measures and ability to attract international students of high ability.
Changes in individual national governments will be moderated by stability through international network.
Societal Values/Expectations
Continue dialogue with government to structure funding in a way to reinforce role as social critic.
Accountability driven by customer relationship and by contracts within network.
Emphasis on high quality research and subsequent improvement in postgraduate instruction.
Building cross-disciplinary teams of researchers and instructional staff, particularly among member institutions in the network.
Expansion of network and student mobility will significantly enhance the diversity of curriculum and of the student body.
Market Needs/ Skill Requirements/Career Opportunities
Need for continuing education will increase, particularly in light of research developments.
Global network expands job market for graduates.
Individual companies will be unable to maintain all the required expertise, creating opportunities for consultation and research.
Financial Factors
Development of network will minimize the need for comprehensive programs and services, and provide cost effective, convenient programming for students.
A healthy global economy, based on increased cooperation and trade.
Individual problems among countries or universities within the network will not adversely affect the whole.
Strategic implications
The question of whether to go private is less critical in a voucher scheme-particularly when combined with a global network. It allows St. Andrews to draw from a wider student pool, and provides a steady source of revenue while enabling the university to hold down certain administrative costs.

There would be limited advantage and considerable risk in going private. The affluent student base would be insufficient to maintain the research infrastructure. This assumes that the voucher system will lead to increased institutional autonomy and a minimum of governmental overview and control. If this assumption is not correct, any increase in government direction would lessen the ability of St. Andrews to be innovative, and therefore, increase the attractiveness of going private.

Loss of governmental support will make technological innovations more expensive, and therefore, more difficult. It will also affect the availability of capital or renovation funds.
Strategic Vision
The University of St. Andrews, as a member of an international network of highly prestigious institutions, will lead in re-establishing Scotland as a world leader in cultural, historical, and theological studies-not to mention the sacred game of golf. Members of the international network will include Warwick (UK), Carnegie Mellon (US), Northwestern (US), and Lyon Trois (FR). While providing a full range of degree programs, St. Andrews will specialize within the network as an international Center for Calvinistic Theological Training, Minority European Cultures, and North Atlantic/Northern European History. St. Andrews will offer students from a wide variety of countries a rich student life, including caber tossing, and golf, with enrollment limited to maximum of 8,000 students. St. Andrews' participation within the network will guarantee access to world class scholars for Scottish students in all disciplines.
Scenario 2: Scotch-Taped
Scenario logics:
Confrontational Regionalism
Extensive Privatization
Incremental Diffusion of Technology
Scenario description in terms of the impact of driving forces/logics on the key decision factors:
Technology
Limited impact
Cost remains relatively high
Fewer people use it
Penetration in education slow
St. Andrews already ahead
The implications of technology are as follow:
Curriculum and classroom stay the same
Site-based instruction
Marginal change in the way universities like St. Andrews work
Further development on basis of comparative advantage would be expensive
Positive aspect of slower development-more time to assess implications and adapt to change
Privatization
Reasons for privatization

Because of reduced government funding?
Government policy?
To facilitate expansion ("increase recruitment of overseas students"- MacCallum)?
Freedom to charge more (ditto)?
To control funding destiny
Government reducing direct funding
St. Andrews already ahead
But limited track record of private university education in the UK
The implications of reduced funding are:
More face to face tuition & site-based instruction
Research corporation ("investment in new science research initiatives"- MacCallum)
Need for facilities + additional campus? How are costs to be met?
Availability of private funding support?
Alumni support
Future of government-funded (owned?) buildings?
Tuition and other financial issues: differential fees; means-testing; maximizing revenue
Maintaining enrollments: reputation important (St. Andrews ahead)
Market-driven: diversification; higher degrees
Confrontational regionalism
Reduced freedom of international travel
Break-up of established groupings (EU, NAFTA, etc.)
Scottish independence
Political instability
Conservative, isolationist governments
Recession
Special relationship among English-speaking countries renewed
Implications of confrontational regionalism are as follows:
Restrictions on overseas students, except North America.
Fewer students from England?
Teaching Gaelic
Strategic Vision
Over the next ten years the University of St. Andrews will aim to:
maintain and improve the quality of its teaching and research in order to maximize the benefit of its comparative advantage and reputation

prepare people to contribute effectively to the society of the future, in Scotland and worldwide (pace DCU)

diversify its sources of revenue to have greater control over its funding destiny

be an institution with sufficient strength and flexibility to respond effectively to changes in the external environment
Scenario 3: St. Andrews, Inc.
Scenario logics:
Cooperative globalism
Extensive privatization
Rapid diffusion of technology
Scenario description in terms of the impact of driving forces/logics on the key decision factors:
Cooperative globalism
World class university
For-profit organization
research centers
continuing education
facilities
with not-for-profit liberal arts colleges
Culturally diverse
multi-lingual/multi-national governing board
multi-lingual teaching, faculty, students
Curriculum: competency-based, virtual and residential
Extensive privatization
Profit centers within the University viewed as subsidiary companies, trading stock, bought/sold
Academic freedom: no tenure
Multiple forms of accountability (to shareholders, customers, suppliers, governments, individuals)
Funding sources: stock, fees, contracts, revenue
Rapid diffusion of technology
Virtual university
High investment in staff development
High-tech organization-management, communication, etc.
Place-bound learning as marketable alongside the technological
Strategic implications
Opportunities for private support of technological development
Privatization might be the only way forward
Pressure and stress on faculty and administration
Funding? Expansion may not be required.
Strategic vision
Pros and Cons of the present University objective:
Pros:

quality of research
potential in location
Space
revenue streams varied, including investments
national political climate

Cons:

high-risk
The history of the university
amount (not quality) of research
the local community
Funding of expansion
Investment stock and its potential (e.g. stock options for academics)
Purchase of Leuchars airport for research park, tourist support
Portfolios of money in different currencies. (International capital)
Strategic Vision Statement
St. Andrews, Inc. will become a world-class for-profit university serving the needs of the globe in the 22nd century. Its mission will emphasize
Integrity with profit
Academic freedom without tenure
High-tech and high-touch
Religion, research and recreation
Strength through joy
Its central goals will be:
Aggressively expand the research portfolio as a basis for continued growth and service to commerce, industry and world government
Reengineer the curriculum for on-line, multi-lingual, competency-based delivery
Provide a fulcrum of hi-tech growth in Eastern Scotland
The strategic issues in attaining the vision will be:
Funding: raising $150m from a public issue/ preferred offering
Reorganize the leadership
Reorganize future profit centers
Internationalization of faculty
Alliances with existing for-profit higher education institutions world-wide.